Find, message, and interview qualified college students using university, major, graduation year, course, and GPA search filters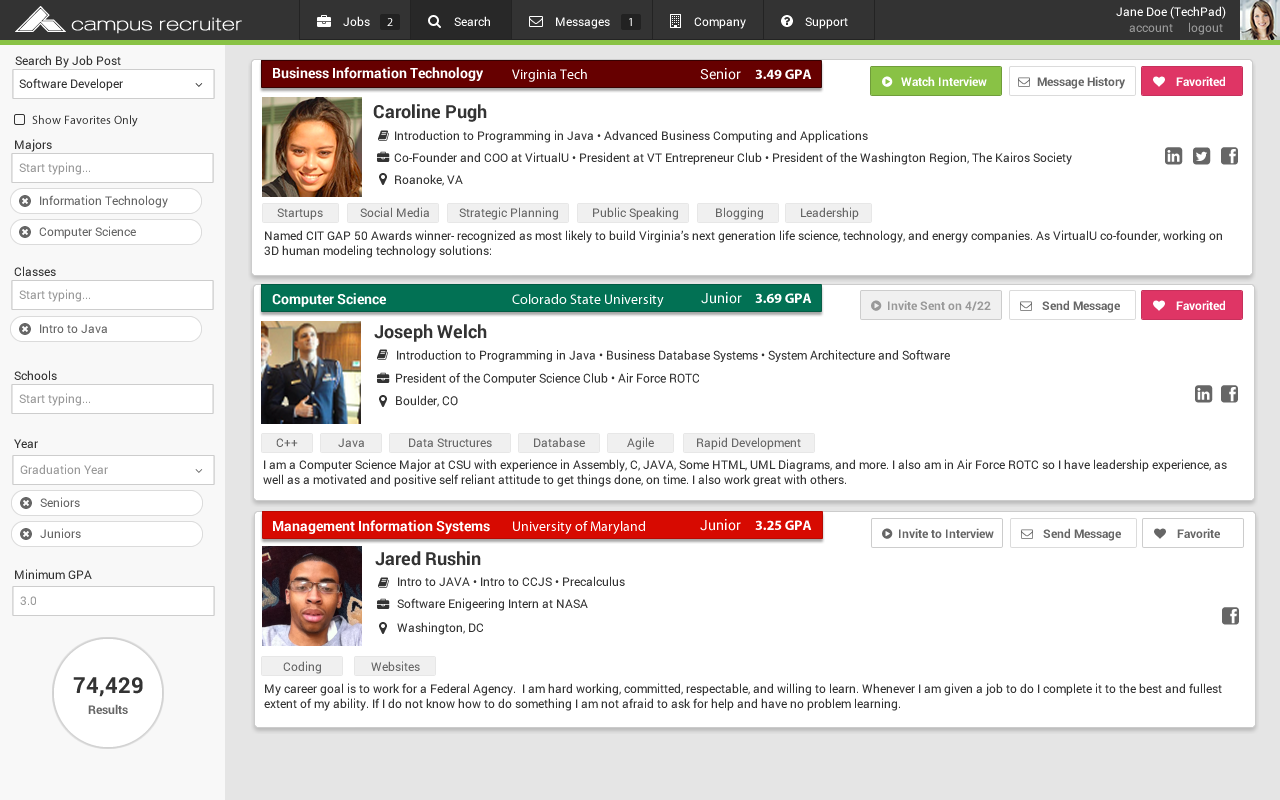 Koofers, the leading student destination for selecting and succeeding in college courses, is unveiling a new college recruiting tool that advances the way employers find qualified students for internships and entry level job positions.
With Campus Recruiter, employers can filter Koofers' vast community of over one million college students by university, major, graduation year, course, and GPA. Once potential candidates are identified, employers are able to message students directly, and if desired, invite them to provide video responses to interview questions.
Employers typically connect with college students through career fairs and job postings. Large employers have full-time staff dedicated to attending career fairs, evaluating talent, and identifying candidates for further consideration. These efforts can be resource intensive, time consuming, and expensive.
According to the 2011 National Association of Colleges and Employers (NACE) Recruiting Benchmarks Survey of 3,231 employers and 106,000 jobs, the average cost per college hire is $5,054. Koofers Campus Recruiter makes the process of hiring qualified college students easier and less expensive by allowing employers to search for and easily connect with qualified students.
"Using career fairs and job postings alone, employers have traditionally had to wait for students to come to them," said Glynn LoPresti, President of Koofers. "With so much competition for top talent, the ability for campus recruiters to proactively find and reach out to qualified students presents a huge advantage. Our employers are able to search across multiple campuses, using filters to easily identify qualified candidates by curriculum, location, graduation date, and more."
With Campus Recruiter, employers are able to contact students directly, and (if desired) request that they take an online video interview. Using the Campus Recruiter video interview capability, employers create a set of pre-screen interview questions and invite students to respond via webcam at any time. This eliminates the need for recruiters to be present for each preliminary dialogue, allowing them to review student submissions from campuses across the US at their leisure.
"[Campus Recruiter] allowed me to find and hire a sports marketing intern located near our office with ease. The process was quick and easy: I searched for students in sports related majors across multiple universities, messaged the ones with impressive profiles, and then used their video interview responses to determine those we wanted to speak with in person." said Chris Lillemoe, Director of Sales at Bolt Athletics.
Koofers has experienced over 100% traffic growth numbers over the past two semesters, making it one of the fastest growing college websites on the Internet. "On average, over 500,000 students utilize the Koofers service on a monthly basis to help them plan better and study smarter" said Michael Rihani, CEO of Koofers. "Today I'm happy to announce that students can now not only plan and learn on Koofers, but also earn an internship and ultimately their dream job via our platform."
Finding and connecting with top talent is every recruiters top priority. Koofers Campus Recruiter allows employers to find and connect with top talent faster and more efficiently. Learn more at https://koofers.com/employers
About Koofers:
Koofers is a consumer internet platform that helps college students succeed by providing free access to practice exams, professor ratings, and flashcards. Koofers Campus Recruiter is an enterprise solution that allows employers and recruiting firms to easily find and connect with over 1,000,000 college students looking for internships and full-time job opportunities.
If you would like to find out more about Koofers Campus Recruiter, please contact Michael Rihani at mike@koofers.com or (202) 642-3272.